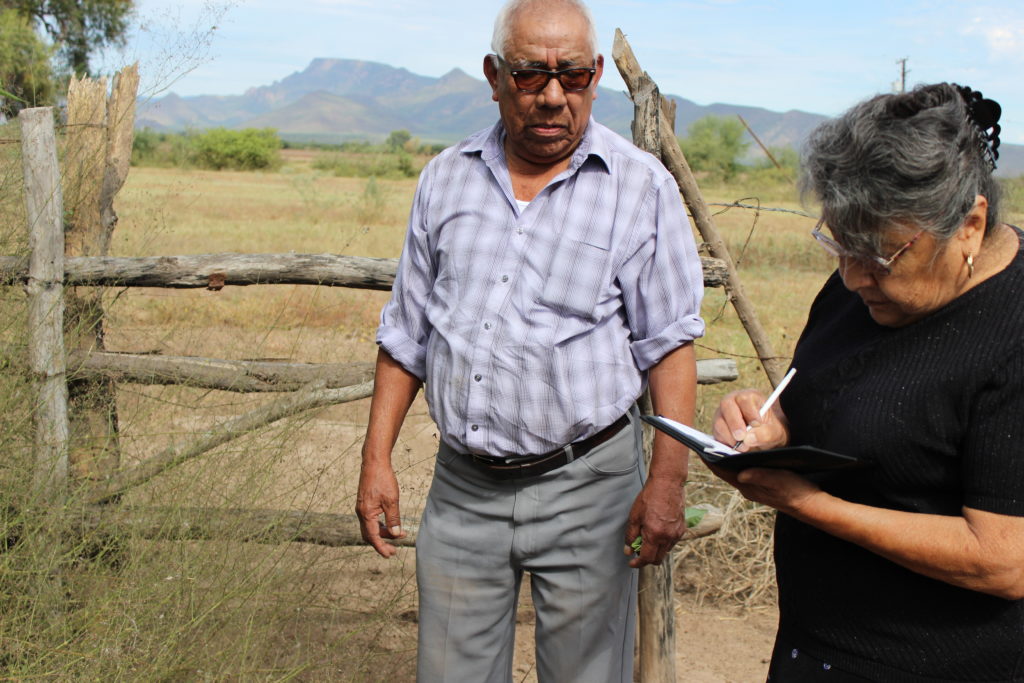 The first volume of a three-volume learning grammar is now available on Amazon! The grammar is designed for Hiaki language teachers and learners.
Team members: Joe Sanchez, Alex Trueman, Hyun Kyoung Jung, Mercedes Tubino Blanco, Louise St. Amour, Heidi Harley, Maria Florez Leyva, Santos Leyva Alvarez.
Oral History Interviews and Transcriptions: 1920-1950's
Interviews conducted by Mrs. Leyva in the 1970-2010s have been translated and transcribed. These oral narratives of elders' early lives focus predominantly on the period of Mexican history when Hiakis were persecuted, deported and attacked, and when many refugee Hiakis first came to Arizona.
Team members: Maria Leyva and Heidi Harley
A Spanish, English and Hiaki dictionary is being compiled.
Team member: Maria Leyva
A Hiaki story, entitled Bunny and Skinny Coyote, was transcribed, translated and published.
Team members: Santos Leyva, Maria Leyva, Jason Haugen, Mercedes Tubino Blanco and Heidi Harley
Database of Transcribed and Glossed Hiaki Sentences Using "Fieldworks Language Explorer" Software
A collection of Hiaki sentences which demonstrate complex properties of Hiaki grammar, collected over the past eight years by members of the entire team.
Team members: Joe Sanchez, Jason Haugen, Heidi Harley, Hyun Kyoung Jung, Alex Trueman, Mercedes Tubino Blanco